3-Room Apartment / Holiday Home "B" in Salzburg City, up to 5 occupants
Enjoy living on 46 m2 (almost 500 ft2) at Amedeo Zotti Residence Salzburg – Serviced Apartments Salzburg, Holiday Homes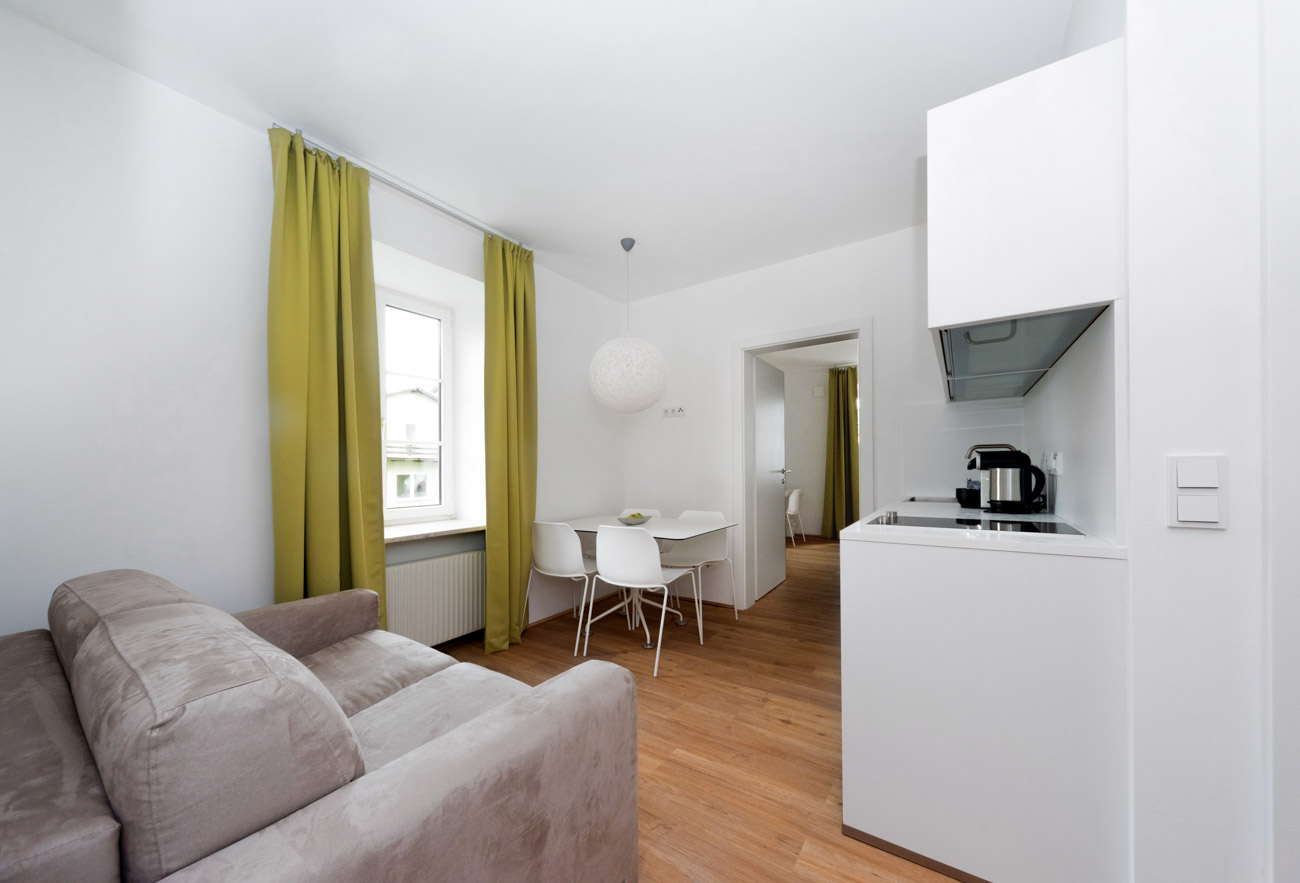 Our lavish Family Apartment in Salzburg is awaiting you on the third floor, featuring a large roof terrace with a stunning view over the rooftops of Salzburg. It offers a bright living room with a large corner sofa (sofa bed, thus usable as an extra double bed), a fully equipped kitchen (Bulthaup) with dining table, two luxurious bathrooms (with shower/tub), cloakroom and anteroom, a large bedroom with double bed plus two additional rooms (each equipped with a three quarter bed.) A sleeper chair serves as an optional high-quality extra bed for an additional person.
occupants: up to 5
number of beds: 1 double bed + 2 three quarter beds (optional: + 1 double bed (sofa bed) + 1 single bed (sleeper chair)
category: holiday homes Salzburg City, 3 rooms
category: holiday apartment Salzburg, 3 rooms
Free air conditioners!
Show room amenities
Room equipment 3-Room Apartment B (up to 5 occupants) Salzburg City:
5 pcs. tumbler
5 pcs. wineglass
5 pcs. cappuccino cups
5 pcs. cappuccino saucers
5 pcs. espresso cups
5 pcs. espresso saucers
5 pcs. soup bowl 23cm
5 pcs. plates 25cm
5 pcs. napkin
1 pcs. bowl
1 pcs. sugar bowl
1 pcs. muffineer
1 pcs. pepper caster
1 pcs. parmesan grater
5 pcs. large spoon
5 pcs. fork large
5 pcs. knife
5 pcs. small spoon
1 pcs. tin opener
1 pcs. corkscrew
1 pcs. ladle
1 pcs. meat fork
1 pcs. stirring spoon
1 pcs. bread knife
1 pcs. knife large
1 pcs. knife small
1 pcs. cutting board
1 pcs. salad bowl
1 pcs. pot large 20cm
1 pcs. small pot 20cm
1 pcs. cover for pot
1 pcs. pan
1 pcs. colander
1 pcs. fruit bowl
1 pcs. coffee machine
1 pcs. electric kettle
1 pcs. toaster
1 pcs. hairdryer
2 pcs. television
2 pcs. remote control
8 pcs. hanger
1 pcs. dustpan
1 pcs. kitchen roll
2 pcs. bathroom tissue
1 pcs./gast welcome kit (shampoo, soap, bathing bag, beauty kit, sponge)
Overview of our four top hotel-apartments in Salzburg: